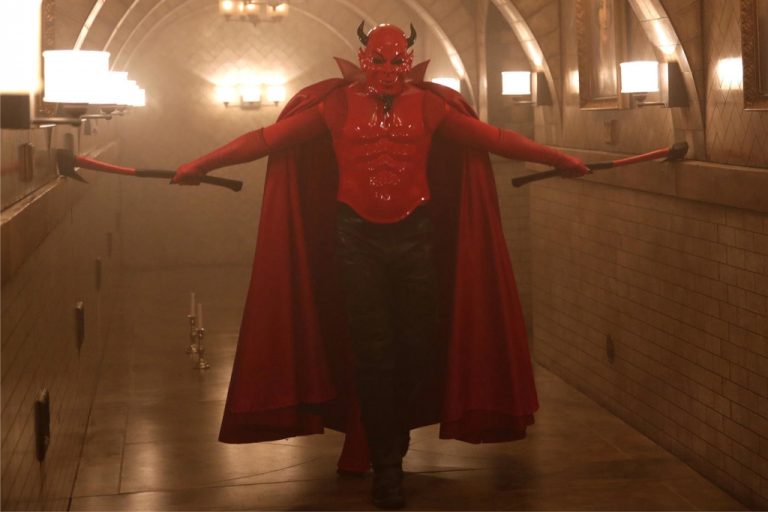 Back when Crum Middle was Crum High, there is was pretty blond cheerleader named Kayla that got everything she wanted, the guys, the grades, the popularity, and the friends. One cold autumn night the cheerleaders were out on the field cheering on the Mountaineers. Kayla said she was going to use the bathroom. Soon as she entered the school, which was dark and creepy, she walked down the hallway and she heard footsteps. When she stopped so did the footsteps.
She hurried off to the bathroom and chose a stall. She then washed her hands, fixed her hair, hurried out, and ran smack dab into someone wearing a red devil mask. "Johnny is that you?" She asked. The person never said a word and then she noticed the axe he held. "What's that for?" She asked. He raised it at her and she ran back into the bathroom. She ran to a stall. She had heard a story about a cheerleader being murdered in the last stall. The door was wired closed so no student could get in it. He tried getting into the stall she was in so she tried to climb over to the forbidden stall. Once inside she saw the bloodstains. Then she saw a blond girl hiding. Who was she?
"Sara come out!" The guy's voice shouted. The girl in the stall trembled. Kayla reached out to touch her and her hand went right threw the girls body. She was a ghost! "I just want to kill you Sara." He said maliciously. Then he shoved the axe at the stall breaking the door and then he sliced off her head. Kayla closed her eyes. "Kay where are you?" Jen another cheerleader asked. Kayla opened her eyes to see blood stains on the wall. She just saw it happened. That was the way Sara Ferrell died that homecoming night.
Help Support West Virginia Ghosts
Would you like to help support West Virginia Ghosts? Your membership will help us pay for our server costs, continued research, and to bring more awesome content.

Stories are personal encounters that were submitted to us by our website visitors. Unless otherwise mentioned, stock photos are used to help represent the story and are not actual photographs that were taken during the author's experience.