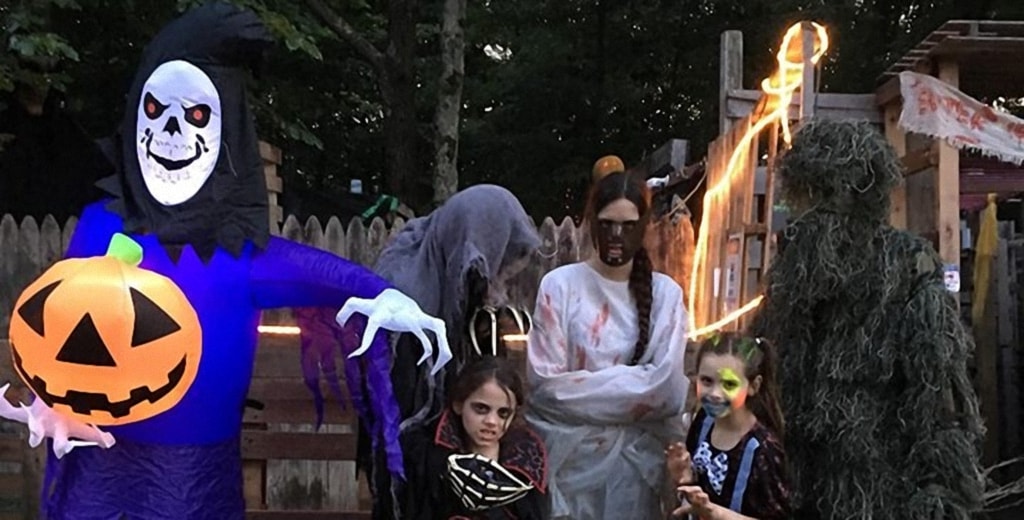 Date
Sep 14 2018
Cost
Free
C & D Bunner Family Spooky Yard Haunt
We have 20 some different theme room/area plus a Maze to walk thru. All Ages are welcome but might be scary for some.
Kids Day – October 6th (1:00 PM – 5:00 PM) and October 21 (1:00 PM – 3:00 PM)
All Ages welcome. The kids may wear their costumes that day. We just ask please no face mask or anything on there face. We will have a face painter there, Free of Charge. This is the time we turn off the bigger props and cover most of the scarier ones. The kids get to walk thru the Haunt and collect candy and treats. There are no Tricks. We will have treat bags to give to the kids this day. The first 50 kids on Saturday and Sunday will receive a t-shirt.
Fright Night – October 13th and October 27th (7:30 PM – 10:00 PM)
Please remember this is for ages 12 and up ONLY. These two nights are much darker
Rules and Information
Please remember this our yard. We are not Handicap Accessible. Strollers and baby car seats are not allowed. We do have steps. There is plenty of walking to do.
We would like to keep the groups down to no more than 5 people in a group. Anything Larger then that is a little harder to work within the Haunt. We will work with larger groups Only on Kids Day.
No Food or Drinks Allowed in the Haunt. No Lights or Cellphones are allowed to be on while in the Haunt.
Please try to leave your hands empty and leave your items in your vehicle or in your pockets. Please wear shoes, tennis or boots. But no flip-flops, heels or slippers. We do have spots in our Haunt that does get muddy when it rains.
Foggers, strobe lights, and security cameras are in use in the Haunt.
There is a Donation Box and a place to take pictures at the end of the Haunt. Please, no pictures inside of the Haunt. Only on Kids Day.
Directions / Parking
Were located in Fairmont, WV. Take the Pricketts Fort exit and follow the signs.
If you're coming from Fairmont go right. If you're coming from Morgantown take a left. Go up the road a good bit and make a right at the big sign. Go past Stagebrush Roundup, when you get to a "T" make a left.
Please park at the Mt. Nebo Church and walk up. If parking is unavailable at the church or you need to park closer, then please park along the roadside where the rope lights are.
Hourly Schedule
6:00 PM

-

11:00 PM

September 14, 15, 28, 29

Normal Haunt
6:00 PM

-

9:30 PM

September 16, 30

Normal Haunt
6:00 PM

-

11:00 PM

October 5, 6, 12, 19, 20, 26

Normal Haunt
6:00 PM

-

9:30 PM

October 7, 14, 21, 28

Normal Haunt
1:00 PM

-

5:00 PM

October 6

Kids' Day
1:00 PM

-

3:00 PM

October 21

Kids' Day
7:30 PM

-

11:00 PM

October 13, 27

Fright Night